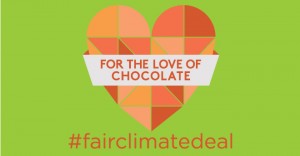 Try out these delicious Fairtrade chocolate dessert recipes, kindly provided by the Welsh-Italian Chiappa sisters and Masterchef UK semi-finalist Beth Thomas.
Marla's Chilli Chocolate Pecans 
http://thechiappas.com/marlas-chilli-chocolate-pecans/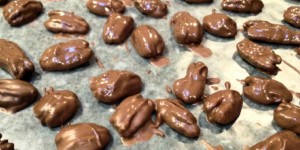 Emi's husband Oscar is from Asheville, North Carolina. One Christmas she came home to Wales with these delicious treats that were what can only be described as "inhaled" by the Chiappas.  It is a recipe that was given to us from Oscars close family friend, Marla which has been in her family for years. Once you try these delights you will want to make them daily…just delicious!  Thanks Marla!
PREPARATION TIME: 15mins
COOKING TIME: 20-25mins
SERVES: lots
INGREDIENTS
150g pecans
3 tbsp butter
1/2 tsp salt
1/2 tsp cayenne pepper (can adjust up or down as desired)
140g cooking chocolate (Fairtrade, preferably dark chocolate)
METHOD:
Preheat the oven to 150C/300F
Melt the butter in a pan on stove and add the cayenne and salt and stir.  Take off heat once butter melted and ingredients mixed and add the pecans stirring thoroughly until coated well.
Place on a baking tray and bake for approximately 20-25 mins until they start to get crispy.  While you don't want them burnt they are best when they are well done
Melt the chocolate in a microwave for ease and once melted stir in part of the pecans until coated and then using a spoon, place individual pecans on wax paper until cooled and hardened.  Repeat until all pecans are coated.
Chocolate truffles
http://bethdoesfood.com/2015/11/13/salted-dark-chocolate-truffles-with-peanuts-sesame-seeds/
Chocolate truffles always go down a storm. They are really easy to make and can be rustled up in advance, making them a perfect dinner party dessert. You can coat them with whatever you like. I love the contrast between soft, buttery dark chocolate and roasted crunchy nuts. And although it might sound a bit strange, sea salt heightens the wonderful deep flavour of dark chocolate.
Makes around 50 truffles
For the truffles:
300g 70% Fairtrade dark chocolate
50g salted butter
300g double cream
For the nutty coating:
6 tbsp sesame seeds
6 tbsp salted peanuts
1 1/2  tsp sea salt flakes
Break up the chocolate into pieces and cut the butter into cubes. Add both to a mixing bowl. Gently heat up the double cream in a saucepan until it comes to the boil then slowly pour over the chocolate and butter, whisking vigorously as the mixture thickens and becomes smooth. Now cover the bowl with cling film and keep in the fridge for at least 4 hours.
Chop up the peanuts into small pieces then pour into a heavy based frying pan with the sesame seeds. Stirring constantly, toast on a medium/ low heat until they are golden brown.
Pour the toasted nuts onto a plate to stop them cooking and mix in the sea salt flakes. Remove the ganache from the fridge. Boil a kettle and fill a cup with boiling water. Heat up a teaspoon in the hot water then scoop a heaped spoonful of chocolate truffle mixture onto a piece of greaseproof paper. Repeat until you have used up all the chocolate.
Roll each truffle between your hands to create round balls. You can use a small amount of oil in each palm to avoid the mixture sticking to your hands. Next roll each truffle in the nut mixture until they are evenly coated. Chill in the fridge for at least 2 hours and serve chilled.