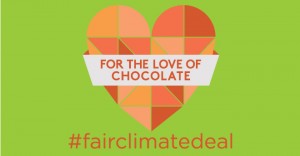 Do you want to help save the world by eating chocolate? Stop Climate Chaos Cymru is running a short project in conjunction with cafes all over Wales.
Climate change affects the planet and its people but did you know that it could mean you won't be able to enjoy your favourite chocolate treat?
A warmer climate means that cocoa trees will struggle to grow if temperatures continue to rise. To mark the 21st United Nations Conference of Parties (COP21) which takes place in Paris from 30th November – 11th December, we've asked Welsh cafés and restaurants to offer a 'climate change special' on their menus, made with Fairtrade chocolate.
You can either visit your nearest cafe or restaurant to try their dish of the day or make some of these easy recipes. Or why not do both? Go on, treat yourself!
Through this project we hope to achieve increased awareness of climate change and COP21, so that people can get involved and have their say for a fair climate deal this December.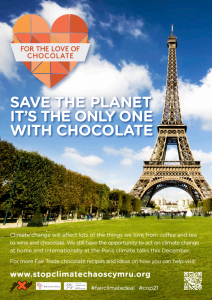 We want even more cafes and restaurants to take part! For more information and an action pack (which includes coasters, posters, and food flags) to take along to your cafe please contact Carys Fry at carys.fry@foe.co.uk